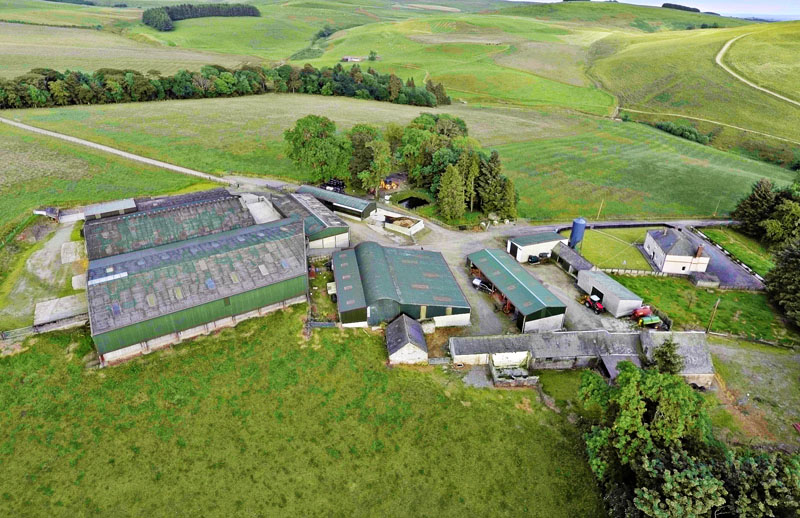 Pearsbyhall Farm occupies an elevated site east of Bankshill Village, just off the B7068 Lockerbie to Langholm Road. The property is within easy reach of the main M74 arterial route.
This exceptional stock rearing farm is noted as being one of the best farms of its type in the area.
CLICK TO VIEW DRONE FOOTAGE
Pearsbyhall is an exceptional commercial stock rearing and feeding farm. The livestock from the holding are regarded by many as exceptional. The property benefits from a well-maintained farmhouse, farm cottage, modern and traditional farm buildings woodland, good access tracks and about 730 acres of agricultural land. As well as the normal farm support by way of BPS, Greening and LFASS, an additional income stream is provided by way of rental for the site of a telecoms mast and an access road to a nearby wind farm. Neither of these secondary income streams encroach on the accessibility or the amenity of this outstanding stock rearing farm.
PEARSBYHALL FARMHOUSE
The farmhouse occupies an elevated site and offers picturesque open views over the surrounding countryside. The dwelling is brick built, rendered under a slated roof over two storeys. The property has been maintained to a high standard and provides spacious comfortable family accommodation over two floors.
FARM COTTAGE
The farm cottage is situated within the farm boundary and is of brick built construction, rendered under a slated roof. The property benefits from its own enclosed garden grounds with off road parking.
THE FARM STEADING
These well-maintained buildings are of both modern and traditional construction, which at present are utilised for cattle housing and general storage. We have numbered each steading building and this can be cross referenced with the steading plan, which forms part of the sales particulars.