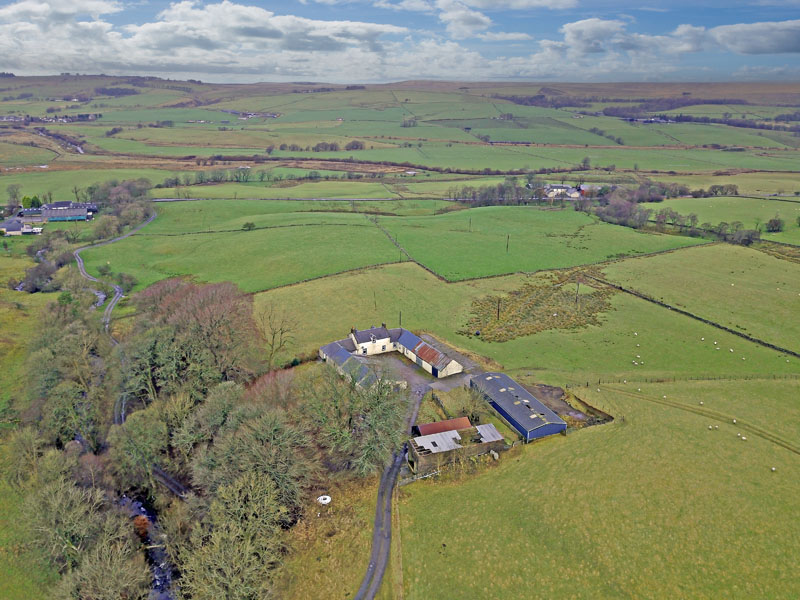 High Polquhirter is situated just outside New Cumnock on an elevated site boasting stunning views across the surrounding countryside. The property sits away from the main road and would be ideal for equestrian or small-scale agricultural uses or indeed, huge potential for some self-sufficient living. The property is within easy reach of major road networks and within reasonable commuting distance of the central belt.
High Polquhirter benefits from a spacious traditional four-bedroom dwellinghouse which does requires a degree of cosmetic upgrading, however, has huge potential to create a lovely family home. In addition, the property benefits from a traditional courtyard steading which is in a condition commensurate with its age. The steading in recent times has been utilised for livestock and general storage but could have some development potential for conversion to residential or indeed, extending the existing farmhouse. Any interested party wishing to pursue this would need to make their own enquiries with the regional council.
The grazing land amounts to about 8.5 acres and is made up of two field enclosures and an area of amenity woodland. The land at present is down to grass for grazing and has huge potential for equestrian or small-scale agricultural uses.
THE AGRICULTURAL STEADING
High Polquhirter Farm benefits from both traditional and more modern farm buildings. The traditional buildings form a 'U' shaped courtyard to the rear of the farmhouse and although have been utilised for agricultural storage, they lend themselves to other uses. To the rear of the traditional steading are a range of more modern farm buildings, including a four bay steel portal slatted shed with feed barrier and underground slurry tank, a high-level slatted shed block built under a profile sheet roof, general purpose agricultural shed utilised as a cattle court.
THE AGRICULTURAL LAND
The agricultural land lies within a ring fence and surrounds the property giving the benefit of privacy and seclusion. The agricultural land is at present all down to grass for grazing, is classified as region 1 and of LFASS status.
HOME REPORTIt should be noted that due to the property being an agricultural holding and seen as mixed use, a home report is not required, however, specialist reports can be obtained upon request.