Foresters Cottage and woodland is nestled within a stunning countryside location about 6 miles from the harbour town of Stranraer which is located on the western coastal region of Dumfries & Galloway. The property has open views and offers wonderful, peaceful seclusion whilst being only 15 minutes from Stranraer, the main A75 euro route and the A77 to Ayr and Glasgow.
Approached by a private drive opposite the tranquil Lochnaw, the dwelling house is situated to the southwestern edge of the property with a useful garage / outbuilding close by. This unique property extends in total to about 47.93 acres to include the woodland ponds access roads etc, and would lend itself to and indeed have great potential for any smallscale horticultural/forestry /agriculture / equestrian or tourist based enterprise.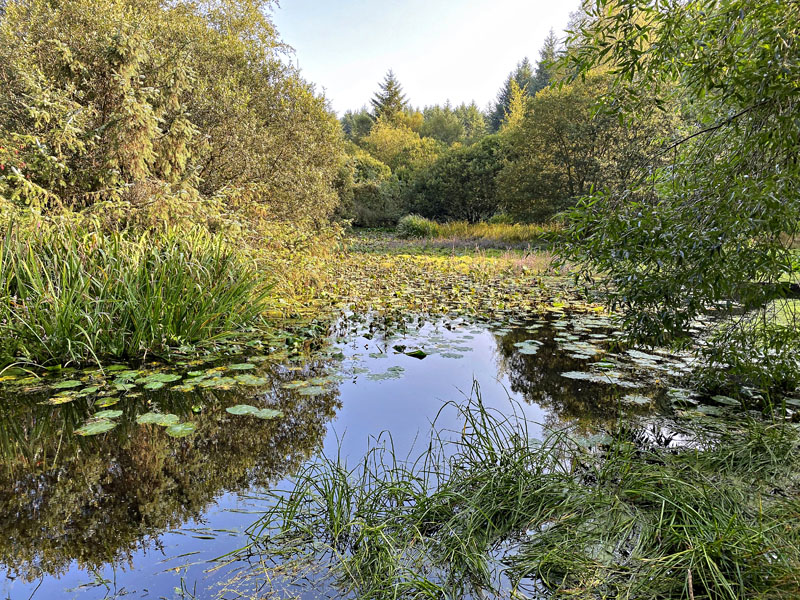 In the past part of the subjects (Drumlochart Wood) was the home of The Really Wild Plant Company. The whole of the property has been sympathetically managed and as such the grounds have a plethora of natural flora & fauna with numerous species of wildlife and birds in abundance. A secondary concrete road was laid through the woodland and although somewhat overgrown at this time, once cleared provides vehicular access to the mixed woodland.
OUTSIDE
There are generous garden grounds surrounding the property and as mentioned earlier, there is a useful outbuilding to the side. This outbuilding is utilised as general storage and also for storage of the rainwater collection. Located in the rear paddock is a traditional timber shelter.
THE LAND
The land extends in total to about 47.93 acres to include the areas occupied by the dwellinghouse, garden grounds, paddocks, woodland, wetland, etc. The holding is registered with the AFRC-RPID with a main location code. The land has been used in the past for woodland and horticultural purposes.
In the recent past the occupiers had established a wild flower business and a separate concrete road was laid. This road still exists and could be reinstated to assist any timber extraction or the like. At the head of this road is a storage container and adjacent to it is the secondary private water supply. The addition, this land offers huge potential for some self-sufficient living.
A feature of the holding is the two wildlife ponds, which attract many species of fowl birds and mammals. The whole subjects have been managed in a sympathetic manner with biodiversity in mind.
HOME REPORT
It should be noted that the property is an agricultural holding, which benefits from an agricultural holding number and therefore there is no requirement for the sellers to provide a Home Report, as it is classed as mixed use. For the avoidance of doubt the property is being sold as a whole.
PLEASE NOTE: The sellers are commissioning a secondary borehole to supply water to the entire subjects. These works will be carried out at the sellers expense and be fully commissioned, prior to completion of the sale.