Burnside is situated in a rural yet accessible location nestled within the stunning Ettrick Valley in the Scottish Borders. The dwellinghouse at Burnside was constructed in 2005 and has been designed to a high standard incorporating all features for modern day family living. The property is set over two floors offering diverse, bright and roomy living accommodation, which is in walk-in condition. The property is surrounded by its own garden grounds, bound by timber fences and cleverly divided making this a safe environment for children and pets.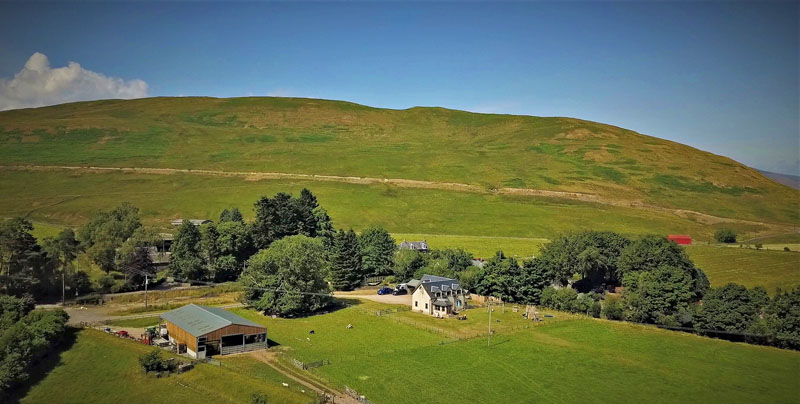 Burnside is a particularly appealing smallholding and benefits from a new livestock shed, stables and about 26 acres of agricultural land. The agricultural land is made up of well-fenced field enclosures with the southern boundary of the land meeting with the Ettrick Water. This stunning property, as well as benefiting from the aforementioned exceptional dwelling, has been developed with careful planning to create a bespoke agricultural smallholding. The property lends itself to a variety of uses and we are informed that there is opportunity to further develop a second dwelling with this plot having its own water and electricity supply. The current owners have erected a modern livestock shed, which would lend itself to other uses subject to necessary consents.
GARDEN GROUNDS
The garden grounds are neatly bound with timber fences and have been carefully designed making safe enclosed areas for children and pets along with an area set aside for growing vegetables and housing poultry. There is a paved patio to the rear making this the perfect area for alfresco dining or family and social entertaining. A useful timber garden shed has also been recently erected.
AGRICULTURAL BUILDING & STABLES
To the rear of the dwelllinghouse is a modern portal structure with concrete panelled walls, Yorkshire board cladding and condensation proof box profile roofing, which incorporates two large stables and a feed storage area.
A convenient distance from the house, the current occupiers have erected a bespoke livestock shed. The shed is of steel portal construction with panelled walls, timber cladding, condensation proof box profile roofing and adjustable gale breakers, which control the temperature within this airy structure. At present, the shed is utilised for the livestock enterprise but has been constructed in such a manner that it lends itself to a variety of uses.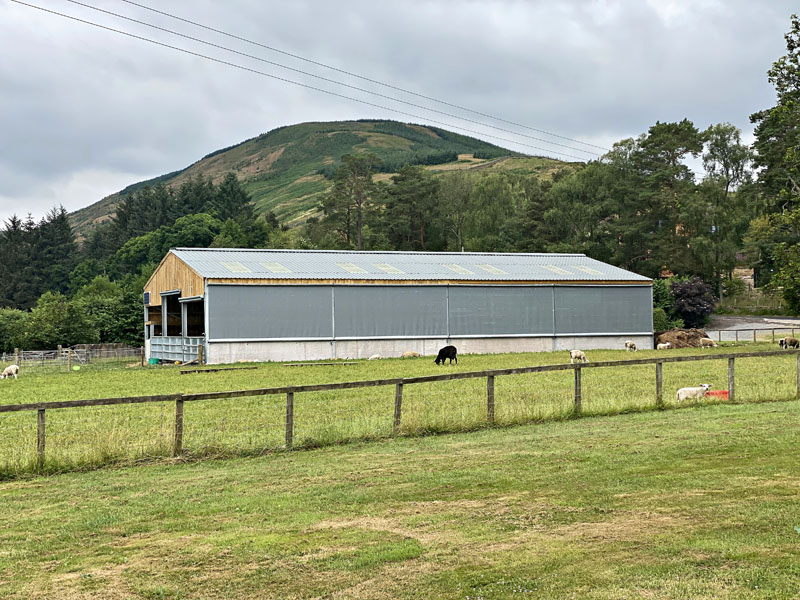 THE LAND
The land lies within a ring fence in clearly defined field enclosures, which are all registered with the AFRC-RPID with a main location code of 93/803/54. The holding is home to a pedigree Texel flock (Coppy Texels), and commercial beef herd. The land is in exceptionally good heart, well fenced and capable of the farming practises carried out. The property extends in total to about 27.80 acres (11.25 hectares), to include the areas occupied by the dwellinghouse, garden grounds, sheds and riverbank.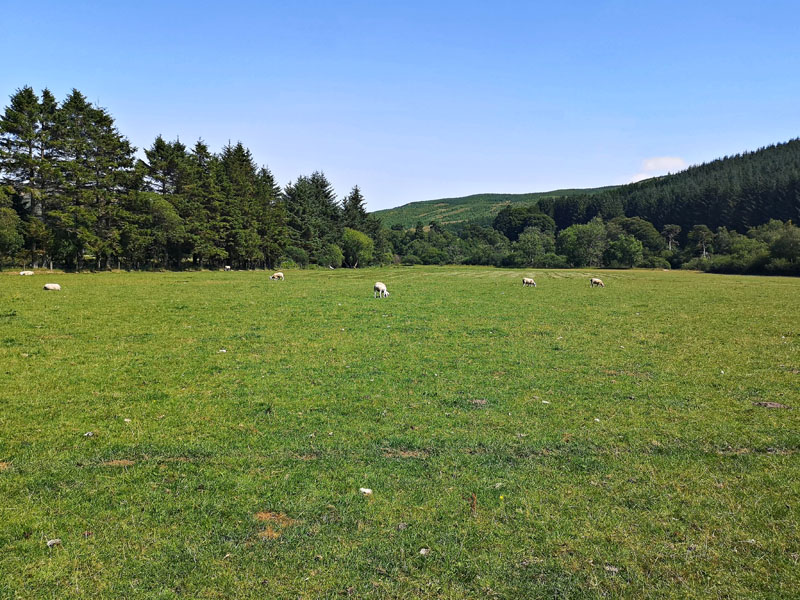 BASIC PAYMENT ENTITLEMENTS – IACS / SAF
The whole of the agricultural land has been allocated payment region 1 & 2. We are advised that the vendors are active farmers (as currently defined under EU Regulation 1307/2013 and the Scottish Statutory Instrument 2014/58). Copies of the 2021 SAF application can be obtained from the sole selling agent.
Burnside will be sold benefitting from 9.47 units of region 1 entitlements with illustrative unit values of €160.66 (Euros) and 1.05 units of region 2 with an indicative value of €34.35 (Euros). The sellers will use their best endeavours to complete the necessary documentation to transfer the established Basic Payment Entitlements.
For the avoidance of doubt any such payments already applied for prior to the completion date, will be retained by the grazier, i.e., the 2021 Basic Payment, 2021 greening payment and any LFASS payments.
The purchaser upon occupation of the subjects of sale will be required and be responsible to comply with the statutory management requirements and good agricultural and environmental conditions, as laid down within the cross-compliance documentation 2021, this obligation expires on 31st December 2021.