Auchenhay Farm is situated within the post code area of Corsock within the Stewartry area of Dumfries & Galloway. The property occupies an elevated site and is surrounded by open countryside. Auchenhay lies approximately 11 miles from the beautiful market town of Castle Douglas.
The farm benefits from a traditional farmhouse, traditional farm buildings and about 406 acres of agricultural land (in total about 420.66, to include the house, steading, access roads, etc.). The agricultural land is down to grass for grazing and conservation (silage or hay) and the farm is self-sufficient in home grown forage.
AUCHENHAY FARMHOUSE
This traditional farmhouse occupies an elevated site and offers stunning picturesque open views over the surrounding countryside. The dwelling is traditionally stone built under a slated roof. The property at present offers comfortable family accommodation over two floors.
AUCHENHAY FARM STEADING
The steading buildings are of traditional construction and are mainly utilised for forage / general storage. These buildings are in a reasonable condition commensurate with their age and are arranged around a hardcore yard. An aerial photograph of the steading forms part of the sales particulars.
THE LAND
Auchenhay extends in total to about 420.66 acres (170.24 Ha), including the areas occupied by the house, steading, yards, access roads, woodland, etc.
The holding features 21 specific field enclosures which are currently all down to grass for grazing and conservation (silage). The land ranges from mowing land through to rough upland grazing and is classified as predominantly yield classes 4 & 5 of the Macaulay Institute for Soil Research (Land Capability Study), as produced by the James Hutton Institute. The farm is self-sufficient in home grown forage and capable of any type of livestock production. However, it is noted that in past years Auchenhay has been utilised as a sheep farm and the cows were dispersed a number of years ago.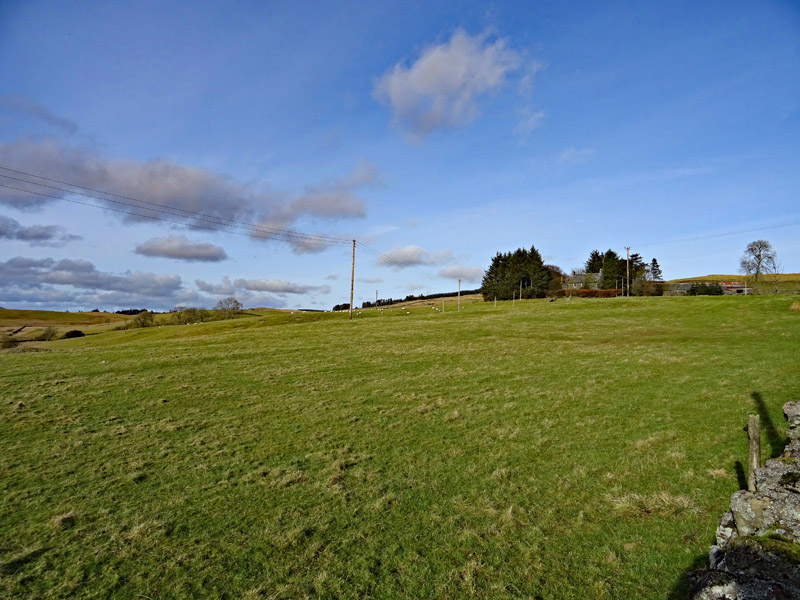 BASIC PAYMENT ENTITLEMENTS – IACS / SAF
The agricultural land has been allocated payment regions 1 & 2 and is classified as LFASS. We are advised that the vendors are active farmers (as currently defined under EU Regulation 1307/2013 and the Scottish Statutory Instrument 2014/58). We are further informed that the sellers completed an IACS/SAF submission 2019 (a copy of which can be made available for inspection from the sole selling agents during normal office hours).
Auchenhay benefits from 81.18 units of region 1 & 63.89 units of region 2 entitlements. The sellers will use their best endeavours to complete the necessary documentation to transfer any and all established Basic Payment Entitlements.
For the avoidance of doubt any such payments already applied for prior to the completion date, will be retained by the sellers, i.e. the 2019 Basic Payment, 2019 greening payment & LFASS.
The purchaser upon occupation of the subjects of sale will be required and be responsible to comply with the statutory management requirements and good agricultural and environmental conditions, as laid down within the cross compliance documentation 2019, this obligation expires on 31st December 2019.
A range of local services are conveniently located within Castle Douglas (The Food Town), which forms the heart of the Stewartry area. Castle Douglas offers all essential services, including a modern health centre, a comprehensive range of leisure facilities, as well as, two national supermarkets. The high street is renowned for its niche retailing which includes many traditional shops and craft outlets. Primary and Secondary education is available within the town. A smaller range of services can be found some 6 miles distant at the village of Crocketford, such as a restaurant / hotel, village shop & a craft outlet.